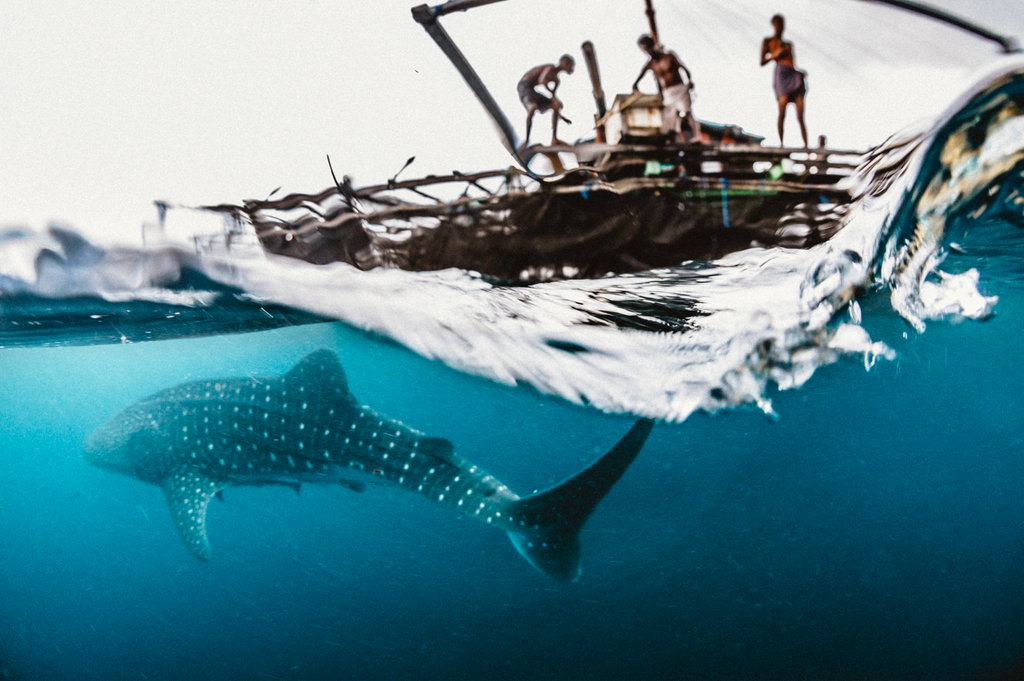 "When we connect with the wild, we remember that we ARE the wild. So what are we doing trying to tame ourselves all the time? Who will we become if we lose the wildness that makes each of us so unique?" - Nathan Scolaro.  
Last week I ventured deep into Papua with my gypsy shark sister @kokocuvier and @indigoluna to seek out and play with the gentle giants that inhabit this extremely remote part of the world. The whale sharks, locally known here as 'Gurano Bintang' or 'Hiu Paus' frequent the open ocean floating 'bagans' ( wooden fishing platforms) in search of an easy meal. We encountered 4 or 5 of these star pattered gentle giants on a daily basis. It was extremely fascinating and humbling to witness first hand the unique relationship these sharks have with the people living on these floating fishing homes out at sea. We were openly welcomed into the home of a local Papuan fishing family where the jungle meets the sea. We bathed in the river every day and slept all together on the floor of a single wooden hut.
Unfortunately, with beauty often comes suffering. We witnessed plastic and discarded fishing line entangled around and even inside some whale sharks ( don't worry lady shark @kokocuvier cut the plastics loose of the sharks). And on a few days, our magical whale shark interactions where abruptly disrupted by the presence of smaller shark species being caught as bycatch and they're lives completely disregarded. We set free 5 blacktips trapped in a large fishing net amongst a school of smaller fish and on another day we found ourselves removing the hooks out of sharks caught on fishing lines and setting them free. 
xx Etoile